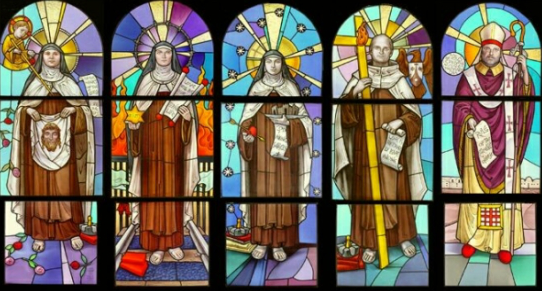 Welcome to Lay Carmelites of Texas. We are members of the Carmelite Province of the Most Pure Heart of Mary which covers the areas of parts of the United States, Canada, Mexico, Peru and El Salvador. We hope that these pages will be useful to you in discerning God's will in your life. The Lay Carmelites seek to follow Christ and minister to his Church by the witness of our life as done throughout our 800 year heritage. Our focus is Marian, and we look for God in the midst of the world and people. Our life is a call to radical transformation. The spiritual journey of intimacy with God begins with prayer and blossoms into charity and love of neighbor. We are called to live a life of love in service to others as we come into contact with people at work, at school, or at home. Our document entitled Carmel's Call states: "The Lay Carmelites are called to be at one with God, self, and the people who share our lives with us. By following our Rule, we are challenged to be more giving and less self-absorbed, so that we can truly find the joy and peace that Christ, our Lord promises. Lay Carmelites are expected to co-operate in the new evangelization that permeates the entire Church. For this reason, they try to overcome in themselves the division between the Gospel and life. Until we meet God face to face, we strive to attain the height of perfection in our daily call to prayer, ministry and community."
Living in allegiance to Jesus Christ, and embracing his Gospel, as the supreme norm of our lives, by the power of his Spirit who distributes his gifts to each according to his will, we seek to live together in mutual service of one another and of all people. In this way, we co-operate in God's plan to gather all men and women into one Holy People. (Taken from the 1995 General Constitutions of the Carmelite Order.)
In the year 2001, Pope John Paul II (1978-2005), wrote us through Father Joseph Chalmers, our then Prior General, declaring: Generations of Carmelites, from the beginnings up to today, in their journey towards the holy mountain, Jesus Christ Our Lord...have sought to model their lives after the example of Mary. For this reason, contemplation of the Blessed Virgin Mary flourishes in Carmel and in every soul moved by a tender affection towards her who is our most holy Mother. From the very beginning she knew how to be open to God's will (Lk. 2, 19-51). Mary, who was educated and formed by the Spirit (cf. Lk.2, 44-50), was able to read her own life experience in the light of faith (cf. Lk.1, 46-55). She was docile to the divine promptings and advanced in her pilgrimage of faith, and loyally perservered in her union with her Son unto the cross. There she stood in keeping with the divine plan (cf. Jn. 19-25), suffering grievously with her only-begotten Son. There she united herself with a maternal heart to His sacrifice (Lumen Gentium, 58)...Assumed into heaven, she now extends the protective mantle of her mercy over her children who are still on pilgrimage towards the holy mountain of glory...In this way a spiritual intimacy develops in which the communion with Christ and with Mary is always growing. For the members of the Carmelite Family, Mary, the Virgin Mother of God and Mother of all people, is not only a model to imitate, but is also present as Mother and Sister in whom one can confide.